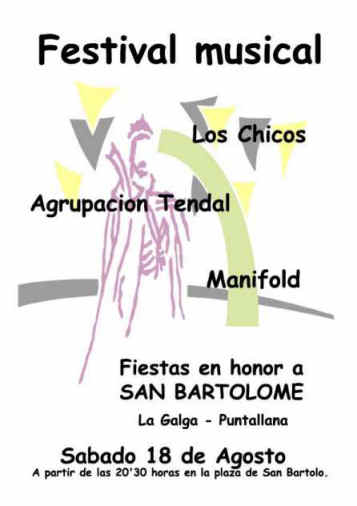 In 2001 there were some more changes. For the first time, we had keyboards in the band played by my old mate Pete Simmons who came over to La Palma from the UK hoping to make a living.
This was Manifold's most prolific period gig wise and the biggest line-up (often 8 members) the band has seen. We had monthly gigs in the Guantanamera Bar in the La Palma tourist area of Los Cancajos, played in a disco bar in Barlovento and at an open air festival in La Galga and at few other venues also. We even managed to throw a CD together!
Manifold
TOP THE BILL
at last !
Well... It ain't the Wembley Stadium or the Hollywood Bowl, but its better than nothing :-)
LA GALGA FIESTA (18 Aug 2001)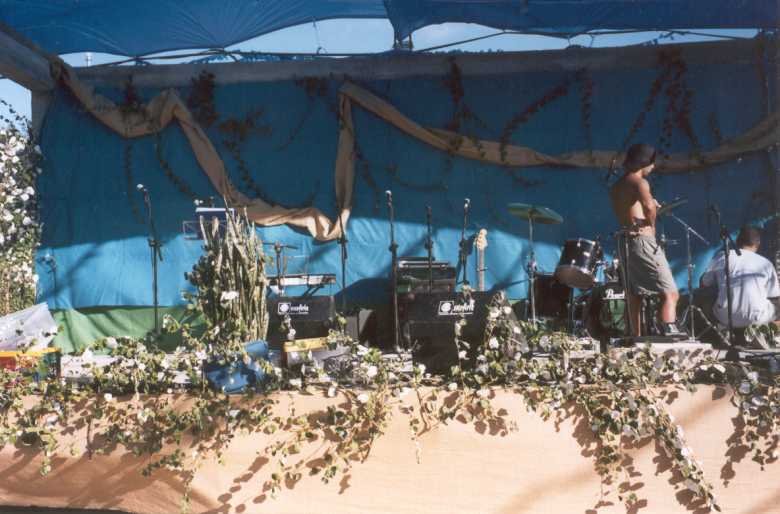 The 'Sono-Arte' sound crew setting up the stage. This was the first time we had the use of a medium sized PA system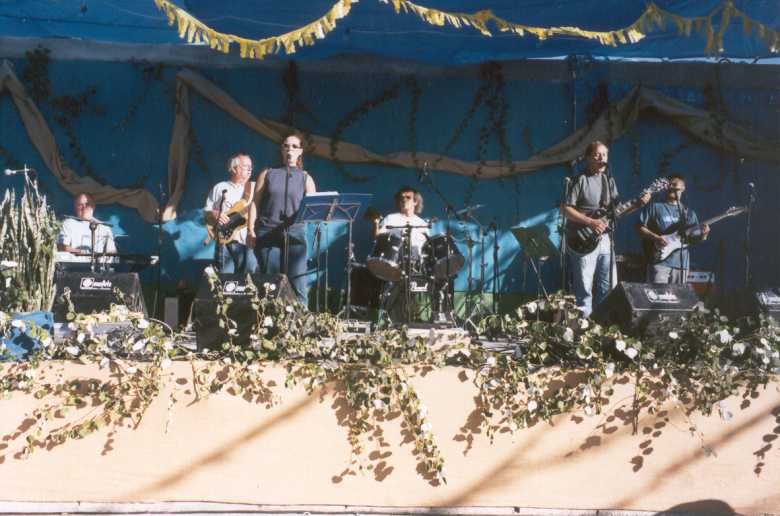 Just some of the band. L to R: Pete, me, Jackie, Carlos, Alan and Patrick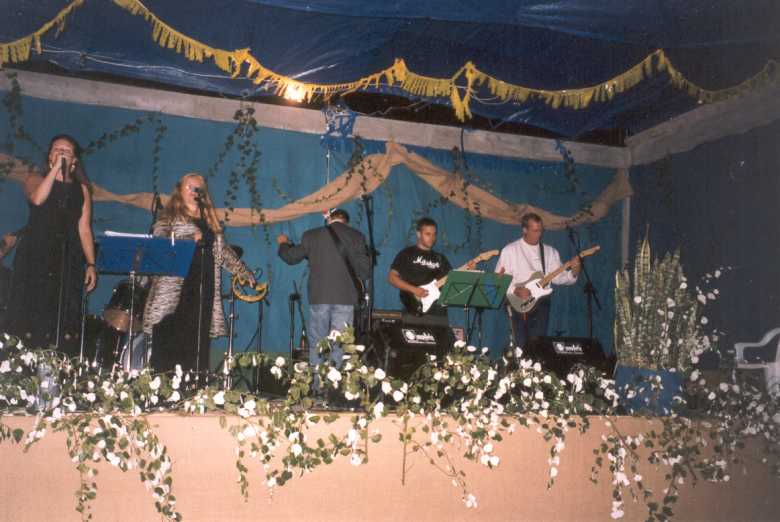 Now with Hilary and Renee. Looks like Alan is having a quick tune up!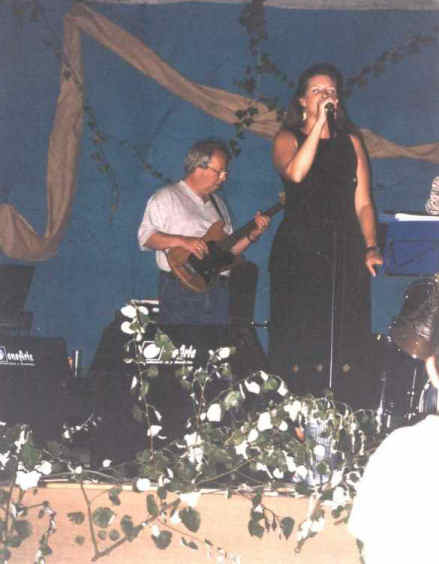 Me 'n Jackie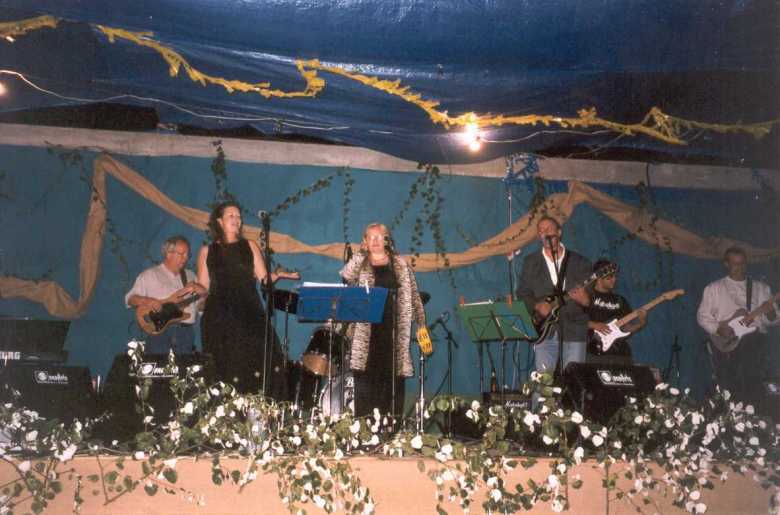 Jackie getting into the music :-)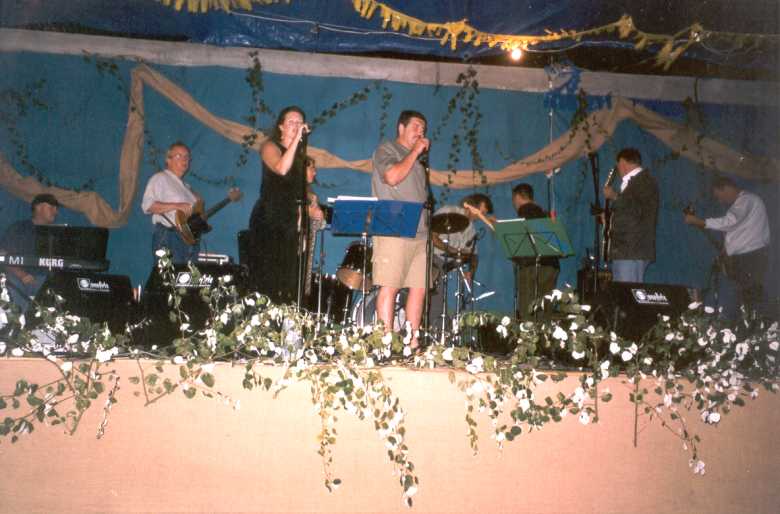 Non scheduled break... Who's blocking the entrance? Luis the organiser requesting for someone to move their car!
GUANTANAMERA BAR - LOS CANCAJOS (Sept 2001)
We played quite a few gigs in this bar and always drew a good crowd. Alex the owner loved it as his bar takings multiplied by several orders when we played... He even run out of draught beer on one occasion! Unfortunately things were not to last. The police came down one night (about 2am) and 'pulled the plug' on us and emptied everyone out of the premises... What a shitter! Someone (probably the owner of another bar who was losing takings) had complained and we later heard that Alex was forbidden to have live bands in his bar as he didn't have a music licence! Incredible... A great pity as this was a regular gig for us and very close to home.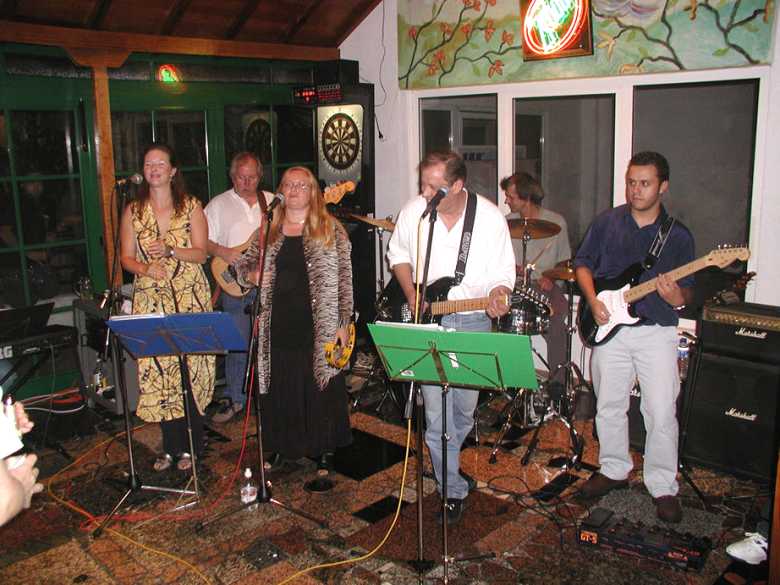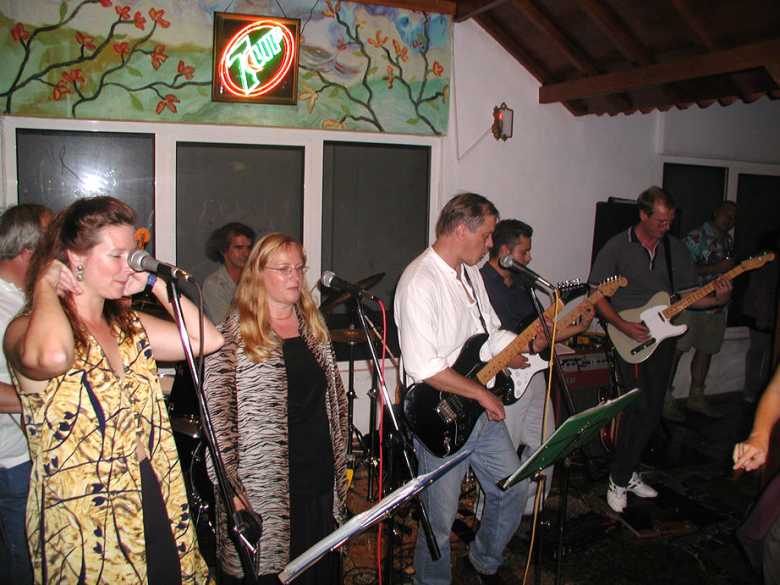 Jackie getting into the vibes as ever :-)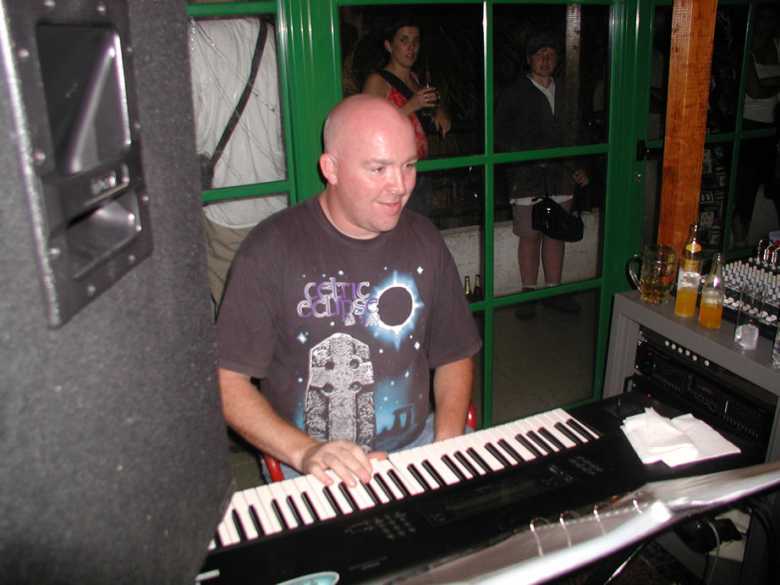 Pete with his 'Mighty' Korg M1 tucked away in a corner behind the PA speakers
It was pretty cramped in this bar with eight of us!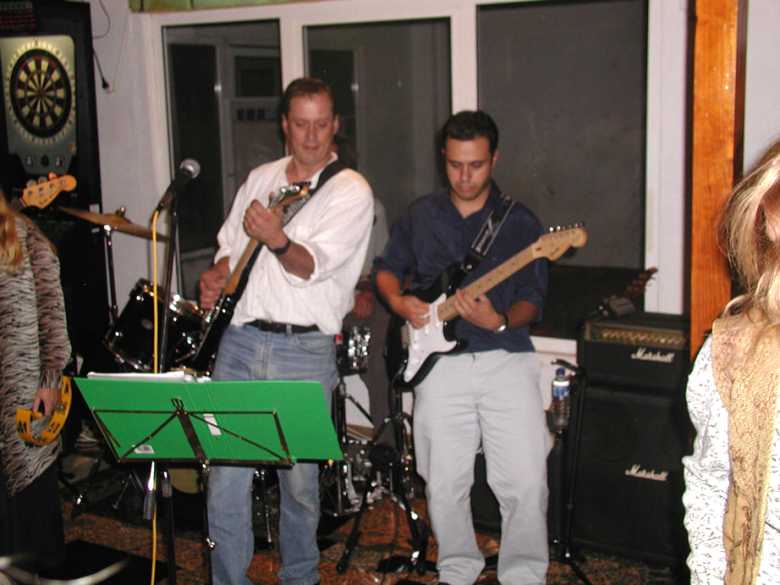 Alan and Patrick 'Giving it some stick'!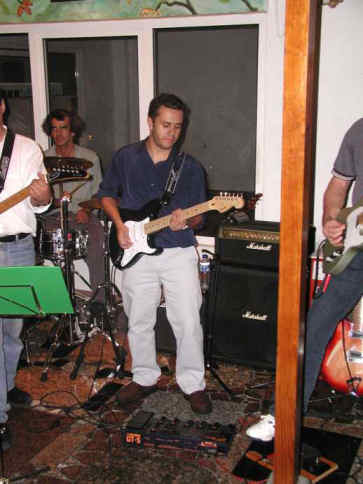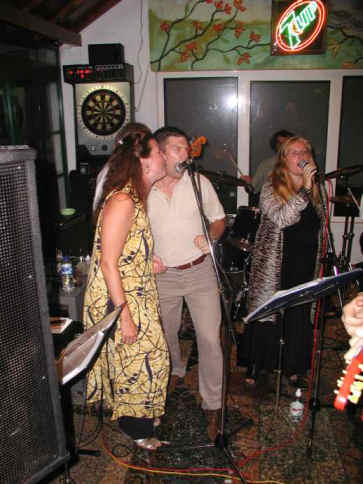 'ECOS' DISCO - BARLOVENTO (Sept/Oct 2001)
We played here on a least two occasions. The second gig was in 2002 with Mathias on keyboards. I used the house bass amp at this venue. A 'solid state' job, but still preferred my Marshall Super Bass 100W valve amplifier.
Patrick had returned to the UK to continue with his studies and at some point Hilary had left the band. Hilary and Jackie never got on that well together and after an almighty great argument at a rehearsal she picked up her microphone and left! Such is the hectic life in a rock n'roll band ;-)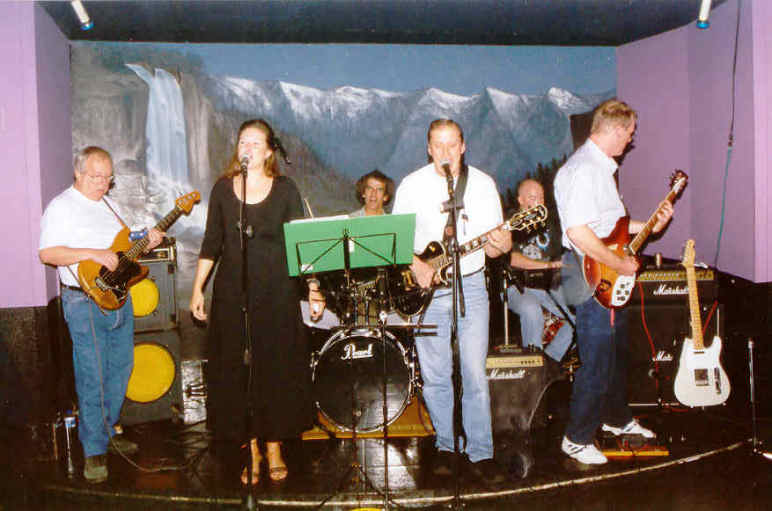 In my opinion one of the best photos ever taken of MANIFOLD III
MANIFOLD MAKE A CD (18 Dec 2001)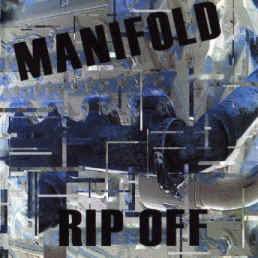 We had often been asked when looking around for gigs by club managers or whoever if we had a CD of the band to give them an idea of what we sounded like. Many of our regular supporters were pestering the band for a CD also so we decided to remedy the situation and put a CD together of some of our best cover songs.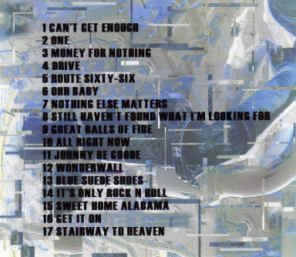 It was a great pity that a week or so before we made the CD, Pete Simmons returned to the UK as life on La Palma didn't work out as well as he had planned. So we had no option but to make the recording without keyboards.
As Patrick was back on La Palma for Christmas, we hired a small sound studio for a day and managed to record seventeen of our numbers. Many, incredibly even Led Zeppelins, 'Stairway to Heaven', we recorded in one take. Naturally, there were the occasional dropped notes and the overall quality was far from professional. The CD sounds rather flat with no presence or reverb, but as time and money was the essence, we just went for quantity more than quality.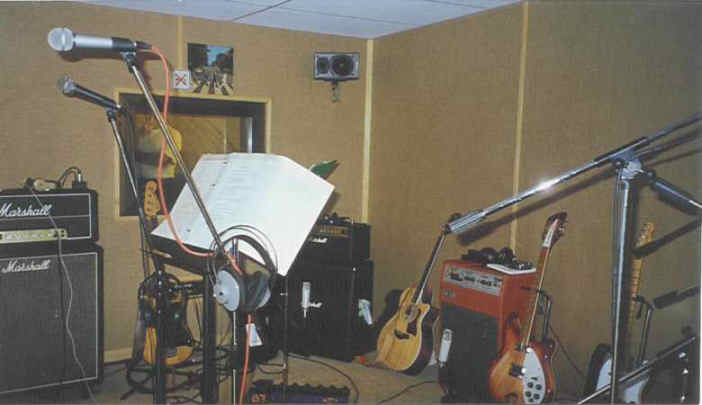 Oswaldo's recording studio up in the hills above Santa Cruz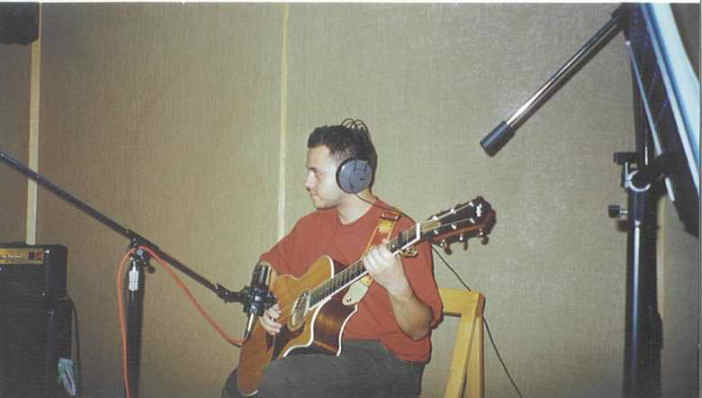 Patrick (the young lad of Manifold) on Renee's acoustic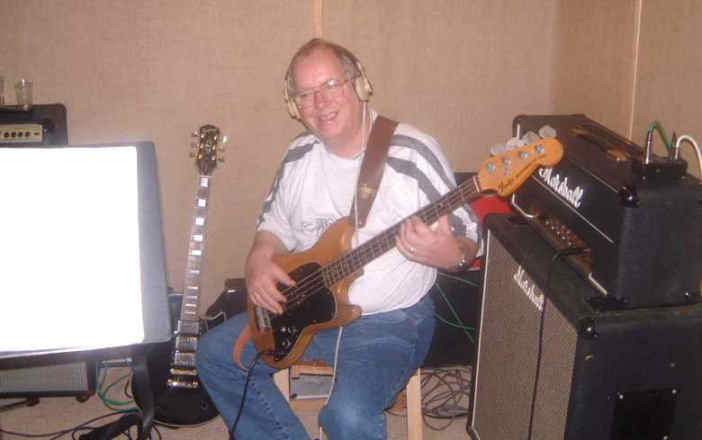 Me (the old geezer of Manifold) taking it easy :-)
---
SO WHAT DOES MANIFOLD SOUND LIKE?
This really depends on how much web space I end up with as MP3 files eat up a load of bytes! For starters, here's a couple of tracks from the December 2001 CD :
A good'ol 12 bar blues number in the key of E. Lyrics penned by Alan Chopping: Ohh Baby Download size: 2.98M
Manifold's rendition of the Metallica classic: Nothing Else Matters and sung by Jackie Abbott Download size: 5.66M