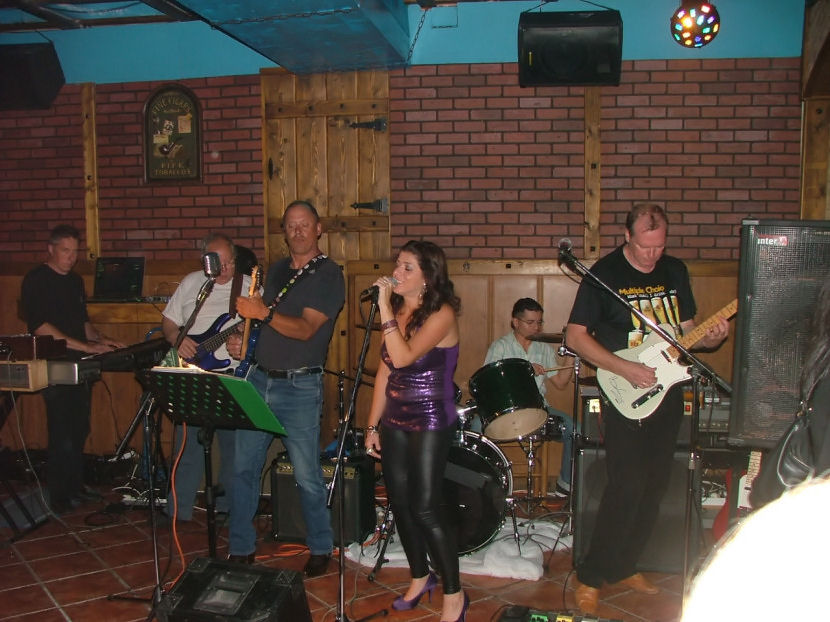 Odisea Bar - Los Canacajos - July 3rd 2010
HISTORY
As with many bands that have been going for sometime, members have come and gone and MANIFOLD is no exception. Alan, Renee and myself being there from the beginning.
The commonality which brought us together was our jobs. We all work (or did) at the international astrophysical observatory (ORM) here on the beautiful island of La Palma in the Canary Islands. Although Alan had played guitar and sung with some former employees, it wasn't until the arrival of Guy Woodhouse (who happened to play lead guitar) that the idea of putting an 'observatory band' together came into being. Guy must have heard Alan singing (haven't we all :-) in the corridors at work and things moved on from there. I was the next to join the band; at first using a 'Beatle Bass' that Guy owned then followed by Carlos Gonzales on drums (Mar 1998 to Oct 2005) and Renee on second lead guitar.
The present line up and the TENTH incarnation of the band (as of February 2016) is as follows:

VOCALS, RHYTHM GUITAR & HARMONICA - Alan Chopping (a good 'ol SE London geezer like myself :-)
VOCALS - Both backing and principle - Paula Rey & Yaiza Magdalena (La Palma) From March 2016
LEAD GUITAR - Renee Pit (Holland)
BASS GUITAR - John Mills (UK, SE London)
KEYBOARDS - Anton Hosinsky (Sweden) Who rejoined us in Jan 2010
DRUMS - Edgar Perez Dudamel (La Palma) - From June 2008
We've had a few short term drummers since Carlos left in 2005 and our thanks go to Jonas, Carla and Manolo.
Our thanks go also to Charlie 'Siete' who played guitar with the band from 2010 to 2012
WHY THE NAME: MANIFOLD ?
It took us quite a bit of time to come up with this name. As well as being a gas porting duct (like as in the exhaust manifold of a combustion engine) in a symbolic sense it could also be interpreted as the coming together of different elements into a common medium. As we have an international line-up and come together to play music, the name MANIFOLD is very appropriate. Not forgetting to mention that as we are based in the Canary Islands, the name is very easy to pronounce to a Spanish speaker.
PHOTO GALLERY
I have broken this down into the variants of MANIFOLD where band members have changed over the years and added comments where appropriate. Hope you like the photos...
MANIFOLD III (2001) Included are links to two MP3 files of the band.
MANIFOLD V (2003 - 2005) Some images enhanced.
MANIFOLD VI (2006) Includes our meet up with Brian May!
MANIFOLD VII (2007 - 2008)
8th June 2007 Bar Guantanamera - Los Cancajos
18th August 2007 La Galga Concert
MANIFOLD VIII (2008 - 2010)
4th July 2008 Bar Bucanero - Los Cancajos
25th October 2008 Bar Bucanero - Los Cancajos
28th November 2009 Palacio Salazar - Santa Cruz "Mira Que Luna!"
18th December 2009 Bar Bucanero - Los Cancajos
29th January 2010 Pepe's Disco - Los Cancajos
3rd July 2010 Bar Odisea - Los Cancajos
MANIFOLD IX (2010 - 2014 )
31st October 2010 Plaza Alameda - Santa Cruz)
29th January 2011 La Escuela Encantada - El Paso
16th July 2011 La Escuela Encantada - El Paso
23rd August 2011 La Galga fiesta
23rd September 2011 Bar Central - El Paso
27th July 2012 LASAL - Marina La Palma
14th August 2012 La Galga fiesta - Updated! Now with five YouTube videos added
13th November 2013 Tijarafe Concert
15th December 2013 San Jose school fete
MANIFOLD X (2016 - )
19th March 2016 Cafe-Bistro La Rapadura - Santa Cruz

The band's resumé (in PDF format)
Necesitas un buen grupo de musica para una fiesta, bar, hotel, etc? Versión en ESPAÑOL
Need a good band for a party, bar or hotel, etc? Version in ENGLISH
NOTE PDF files were last updated (24th July 2014)