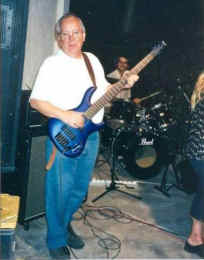 2003 was a bloody terrible year for gigs... We hardly played any! The only addition to the band was equipment wise when I finally got around (AFTER 31 YEARS) to buying a new bass.
In 1999, I had been back in the UK and managed to fit in 'jam session' with some friends and Mark (the guitarist and also an accomplished bassist) had loaned me his 5 string bass. Although a bit strange to play at first, I appreciated how much difference that low B string makes especially when playing in the key of C or D as it provides a lower octave.
In the 1970's I had used a Fender Precision, but discovered the 5 string models have quite wide necks. As my fingers are short I needed a 5 string bass with a narrow neck similar to what I had played in the UK. The selection of basses in SonoArte (the ONLY music shop on La Palma) had a very limited selection, but there was an IBANEZ ERGODYNE 4 string bass that I tried and found nice to play. If it had been a 5 string model I would have purchased it there and then.
The bass I eventually got was a 5 string Ibanez Ergodyne (EDB-605) and acquired for me by my mate (and Manifold ex-keyboardist) Pete Simmons from the Bass Cellar in Denmark Street (Tin Pan Alley), London. Getting the bass to La Palma was quite an achievement also.
I had been in contact with the director (Martin Mortimore) of a BBC film crew that were coming over to make a documentary at the observatory and asked him if he could bring the bass over for me which he kindly did. To get the bass to Martin in time before he flew out was planned like a military operation! Pete who was then driving a coach made a detour to west London to meet Martin at a pre-determined location and time to hand him the bass. It all worked perfectly. My thanks to Martin Mortimore and Pete Simmons for their help as without it I would probably still be waiting.
BAR 'SAN BLAS' - MAZO (14 Aug 2004)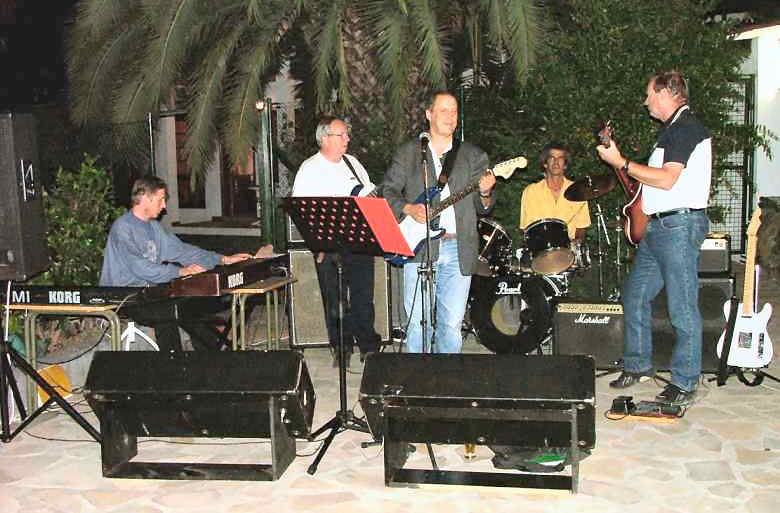 With Anton Hosinsky (originally from Sweden) on keyboards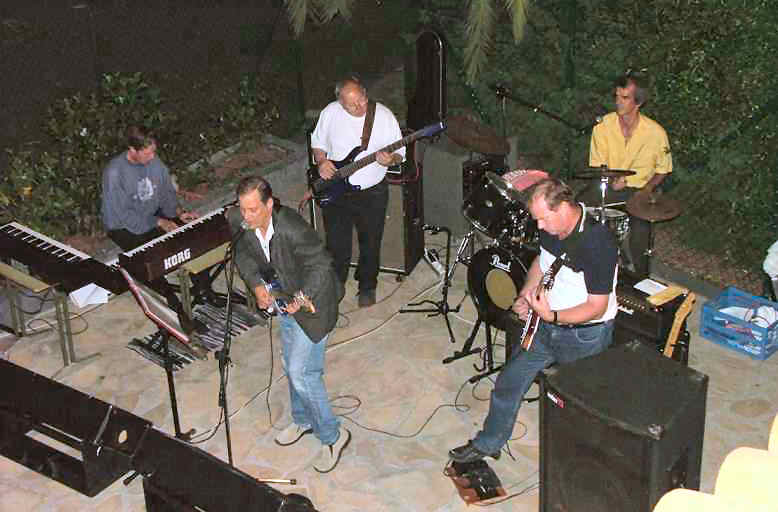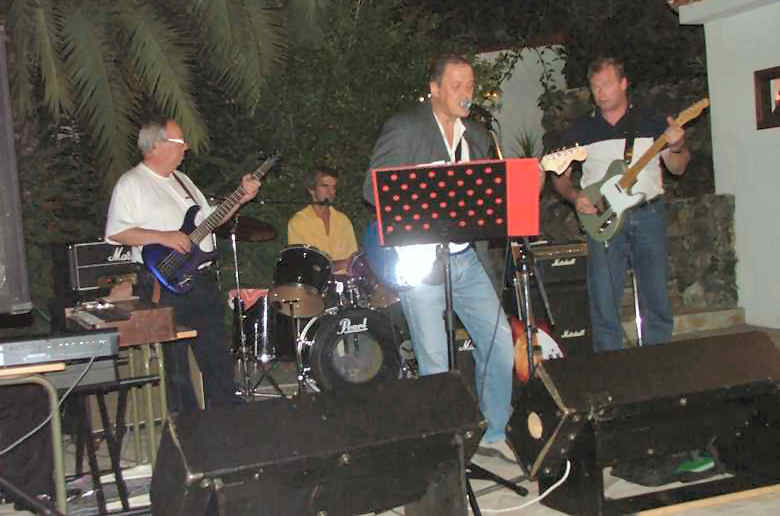 CHRISTMAS DAY IN SANTA CRUZ HARBOUR (25 Dec 2004)
And we STILL haven't got paid for this gig... Heard we just got paid (Feb 2006). Bloody incredible huh!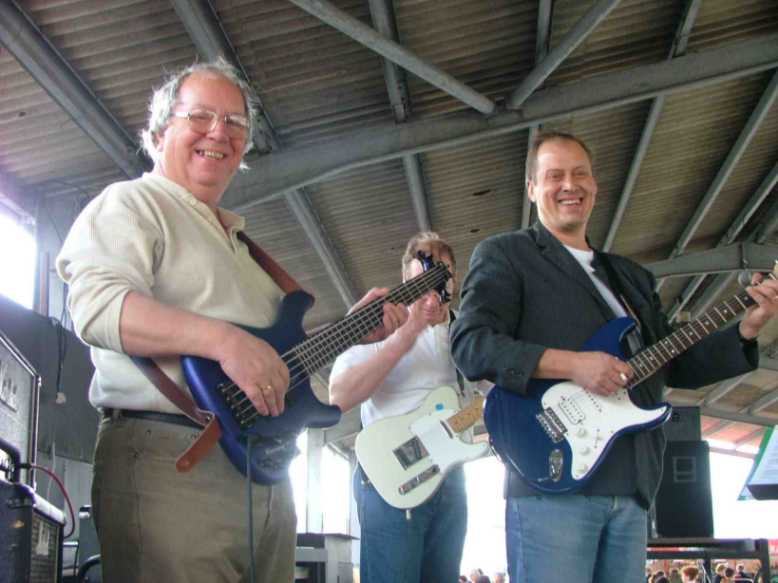 L to R: Me, Renee and Alan just about to start. A bit of a wet and windy day I recall.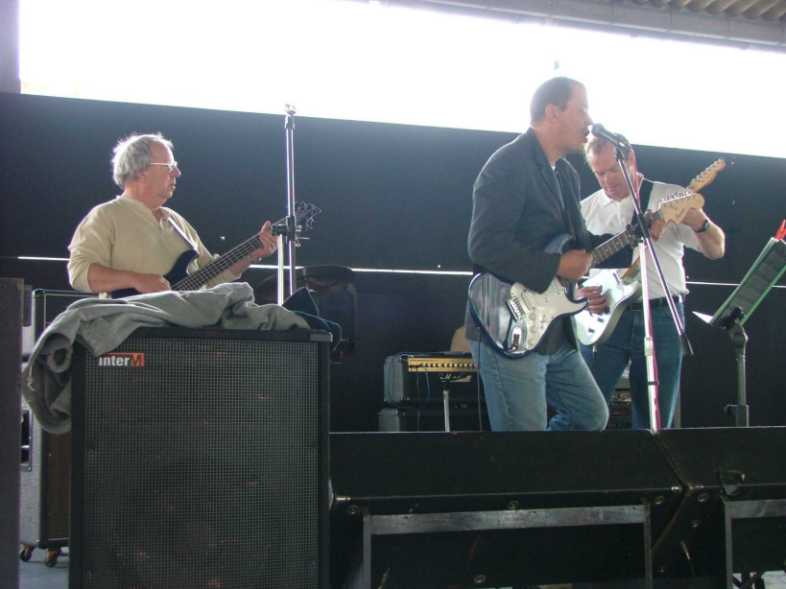 Anton behind. For our final set he went off to play at another gig in the 'Club Nautico' !!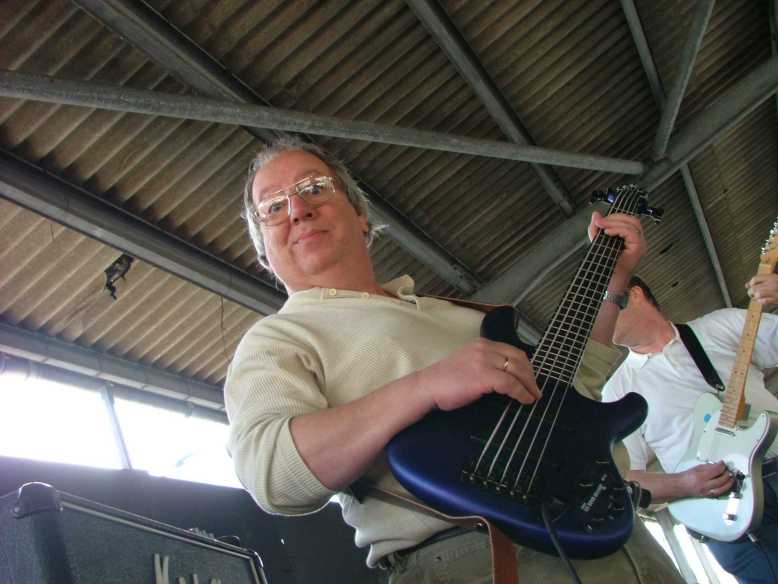 More silly looks!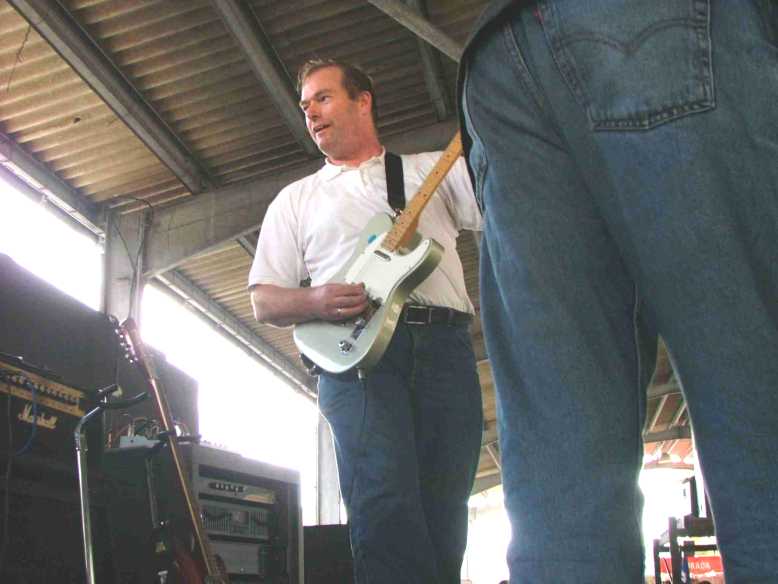 Renee... Ok, on the count of three...
PETER SORENSEN'S WEDDING IN THE LA PALMA AERO CLUB (12 Mar 2005)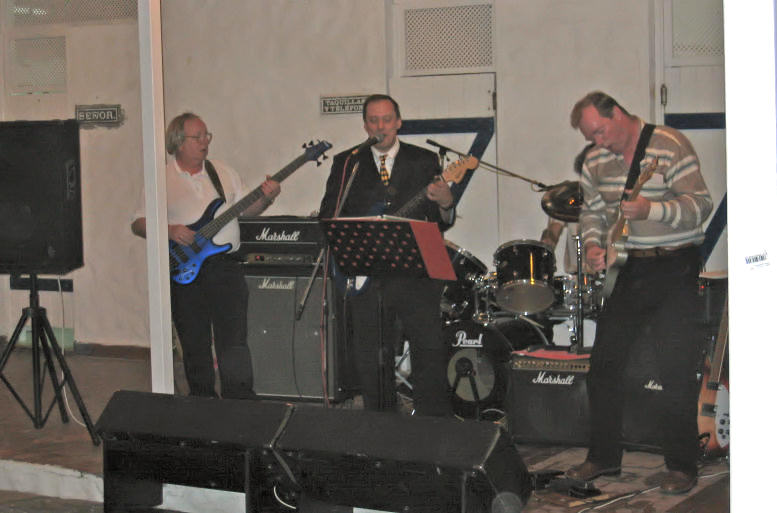 Photo courtesy of Pete Sorensen... Cheers mate :-)
---
Astro Conference gig in May at the Club Nautico... No photos unfortunately :-(
HALLOWEEN GIG AT PEPE'S DISCO, LOS CANCAJOS (31 Oct 2005)
Unfortunately the batteries in my camera died shortly after these pictures were taken (by Javier Mendez). A great pity as there are no photos showing our guest performers Richard (SAX) Parker and Karianne Holhjem (from Norway) on vocals. I'll remember to put a fresh set of batteries in my camera next time!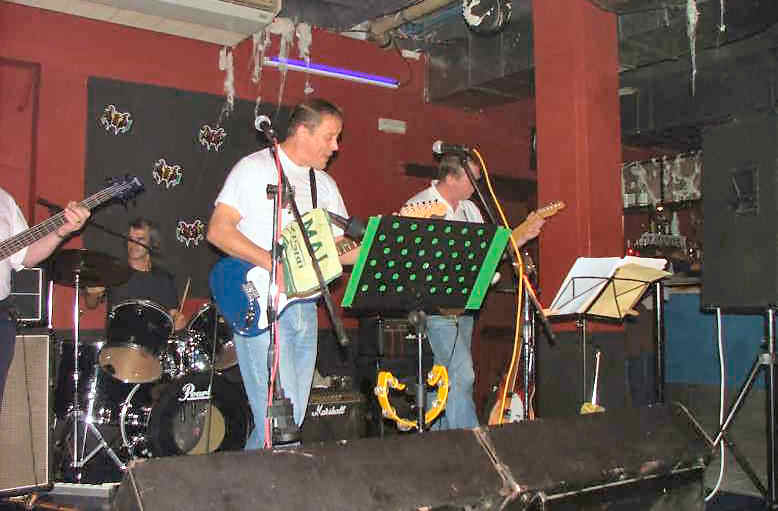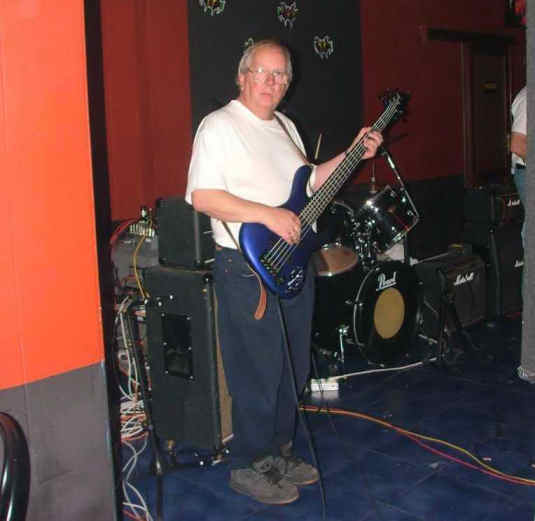 Don't know why I look so serious in this photo!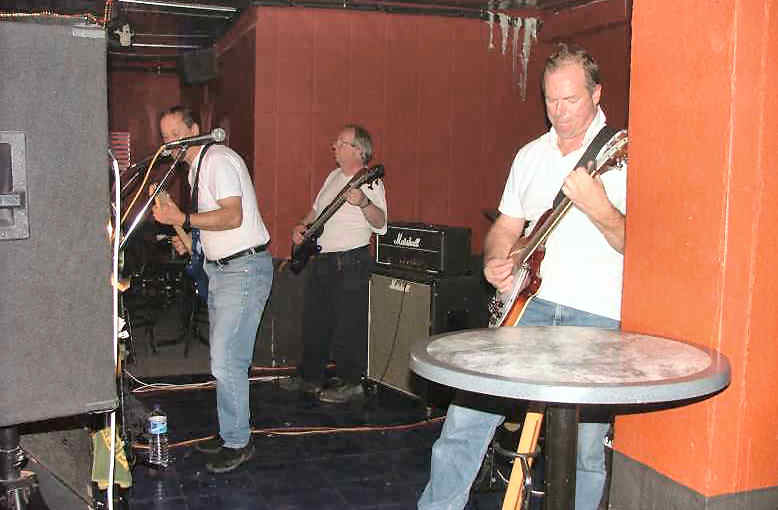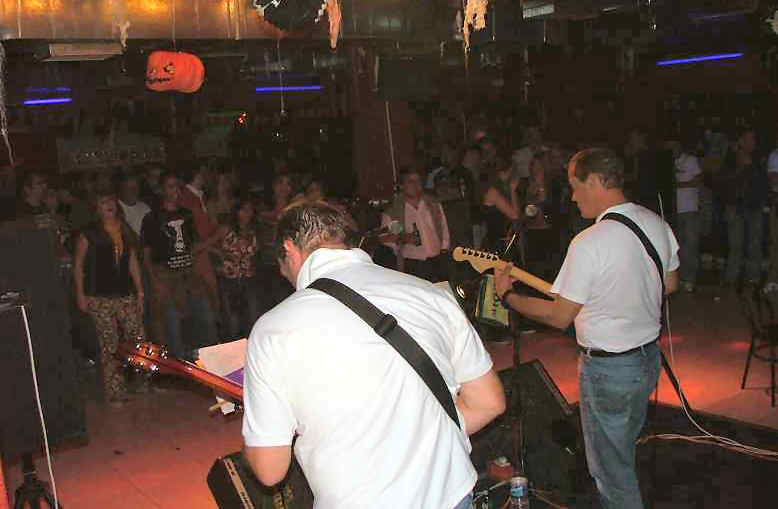 Our loyal supporters cheering us on :-)
---
Well, I spoke too soon!
More images from our Halloween gig showing our guest performers Karianne Holhjem and Richard Parker in action. Photos kindly sent to me by Karianne.