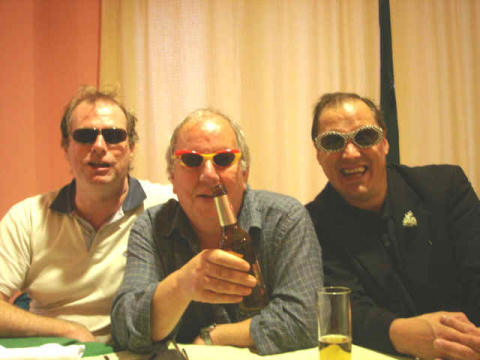 2006 was not a good year for MANIFOLD. After the Halloween gig in October 2005, Carlos left the band and finding a replacement drummer has not been without its problems. For a time, a local lad (Jonas) sat in with us, but due to work commitments he seldom could make rehearsals. During the summer, we played for a time with Carla, the 16 year old daughter of a German neighbour of Alan. Being so young and a student, understandably she has to devote time to other things and playing rock n'roll with a bunch of old geezers is not a priority! Later in the year we lost both Richard and Karianne who after completing their time on La Palma have moved away to universities to continue their PhD studies.
Still, we're not giving up and sure MANIFOLD will be back in anger before too long. Even more so in that we have been asked to play in a 'Rock Bar' in town. So, the search for a drummer continues... !
Photo taken of Renee, me and Alan drowning our sorrows on the 16th Feb 2007 at a leaving party for a couple of ING staff members in the 'La Caleta' restaurant - Los Cancajos.
MANIFOLD MEET BRIAN MAY ! (25 Sept 2006)
This was a very pleasant surprise and most unexpected. Javier, the ING's PR person sent us an email saying that Brian May (guitarist of 'QUEEN' and one of the most accomplished rock guitarists in the world) would be visiting the ORM and asked if we would like to meet him... Well, who could refuse an offer like that ;-)
After visiting the GranTecan (which Brian had especially been invited out by the IAC to view: See Bri's Soapbox and click on 'previous' to move to September 2006 - Page 2) he arrived at the WHT later that evening. He was certainly surprised when Renee and Alan asked him if he could sign their guitars which he kindly did... Certainly a memorable day for all of us.
L to R: Renee, me, Paul Jolley (Brian May and Manifold fan! ), Brian and Alan
Photo credit: Javier Mendez
MAARTEN'S LEAVING PARTY (29 July 2006)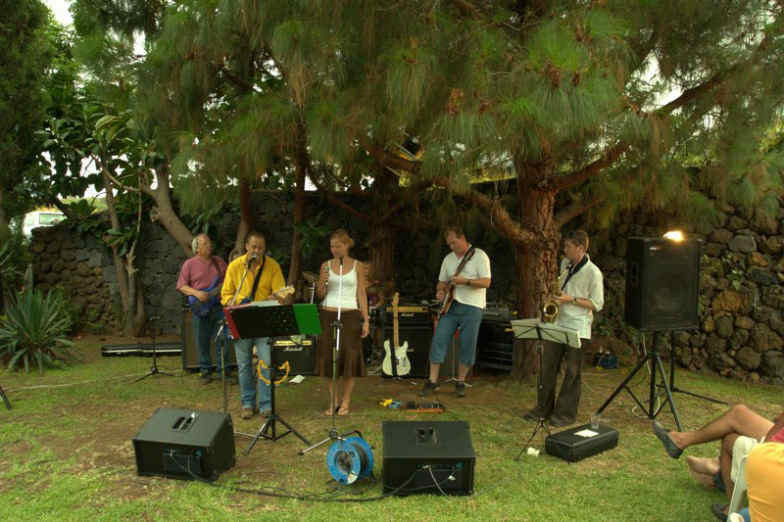 Manifold '6' line up. L to R: Me, Alan, Karianne, Carla, Renee and Richard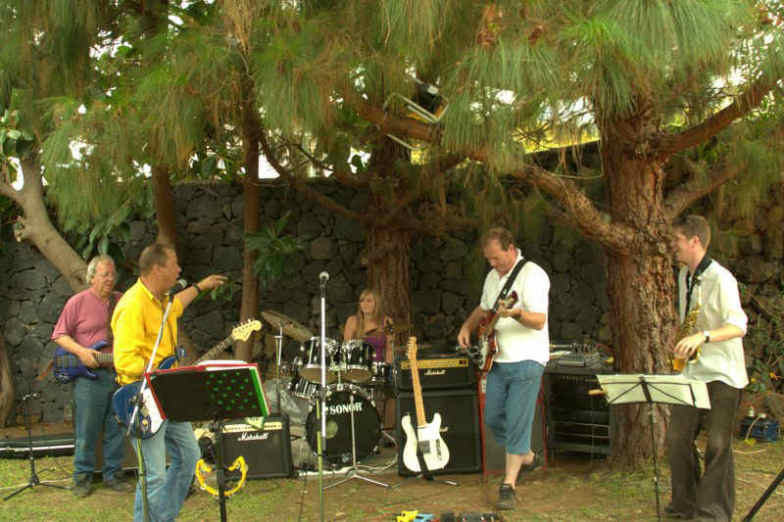 Something comical must have happened here looking at our faces!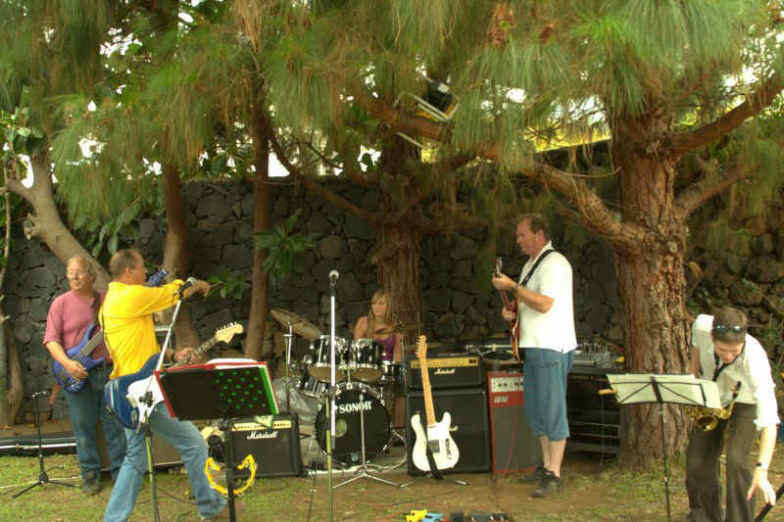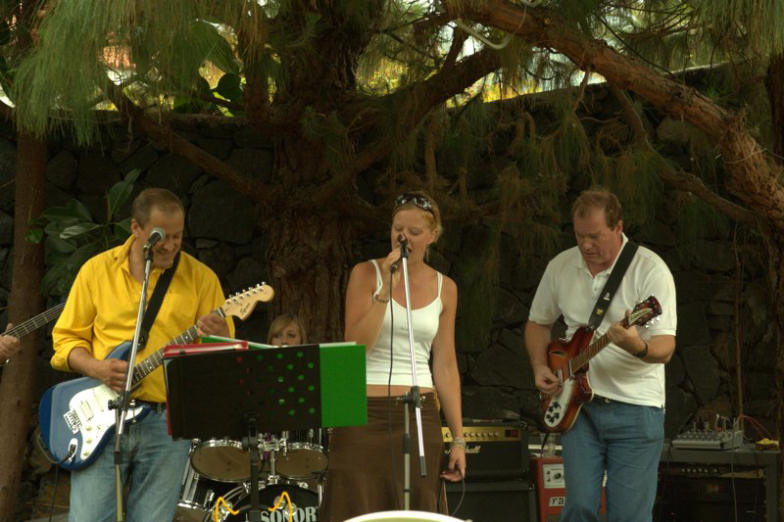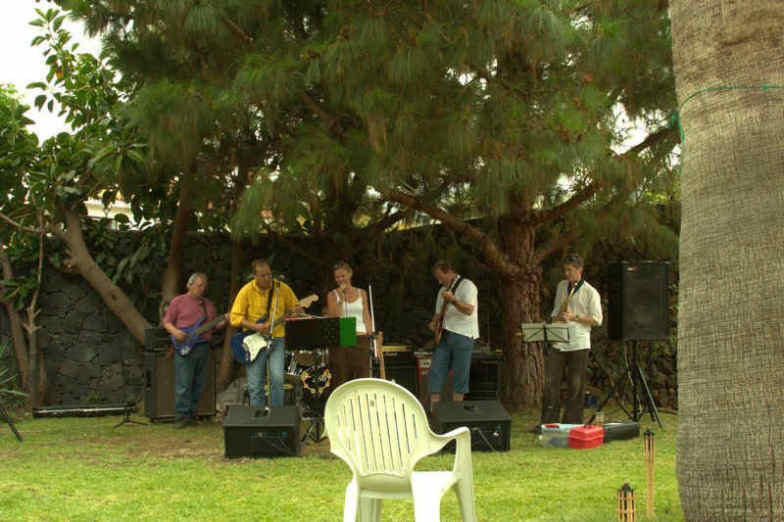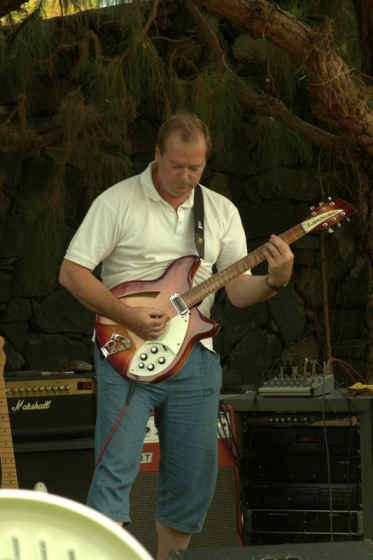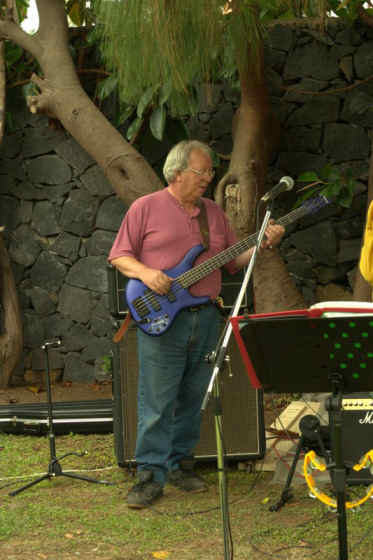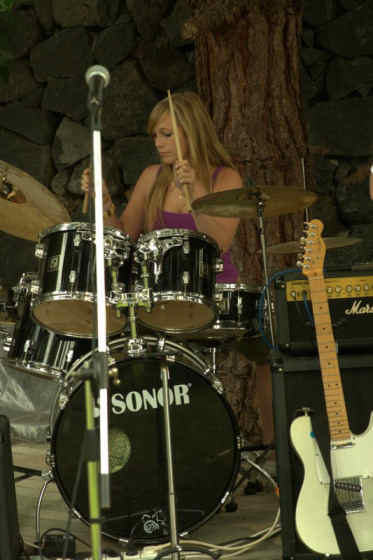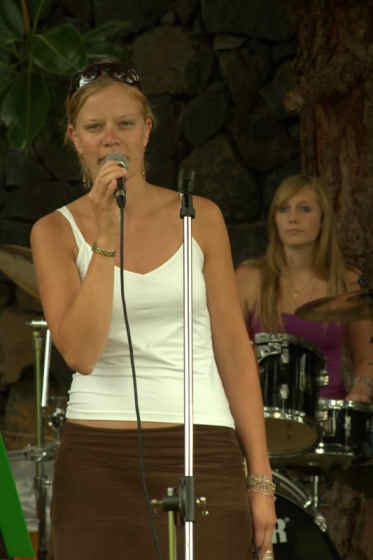 Richard blowing his horn ;-)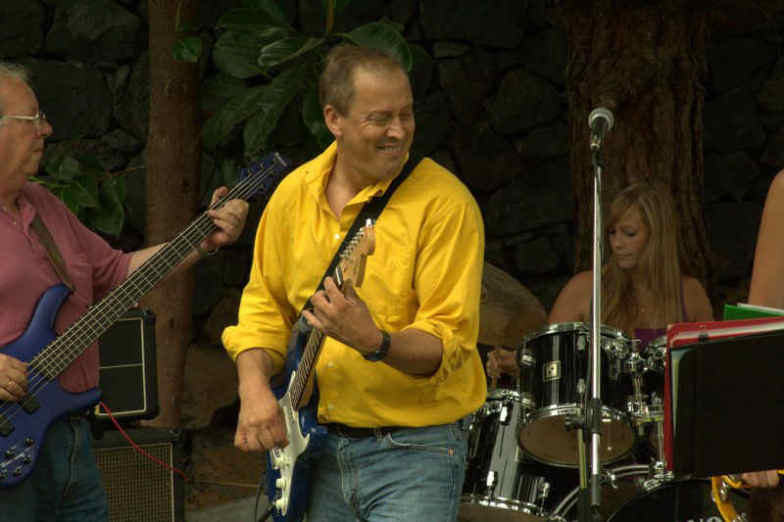 Alan... Happy as ever ;-)
A 'Classic Photo'... Karianne captured in a pensive moment with Carla looking on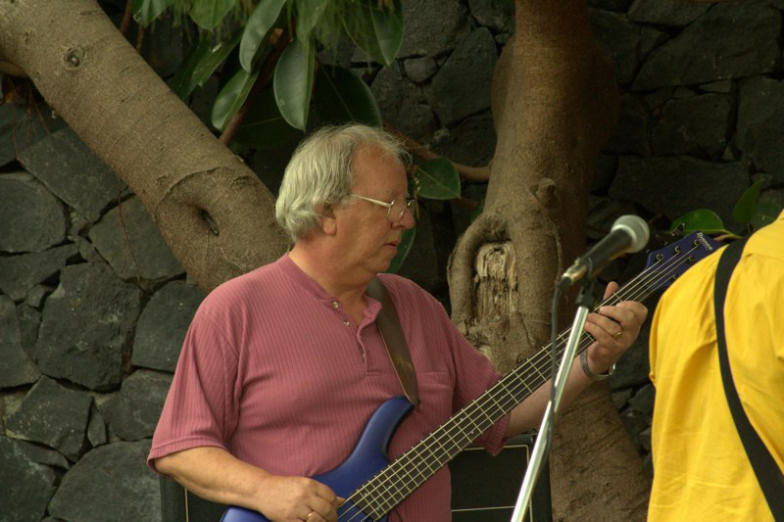 One of these days I'll work out where the notes are without having to look at the fretboard...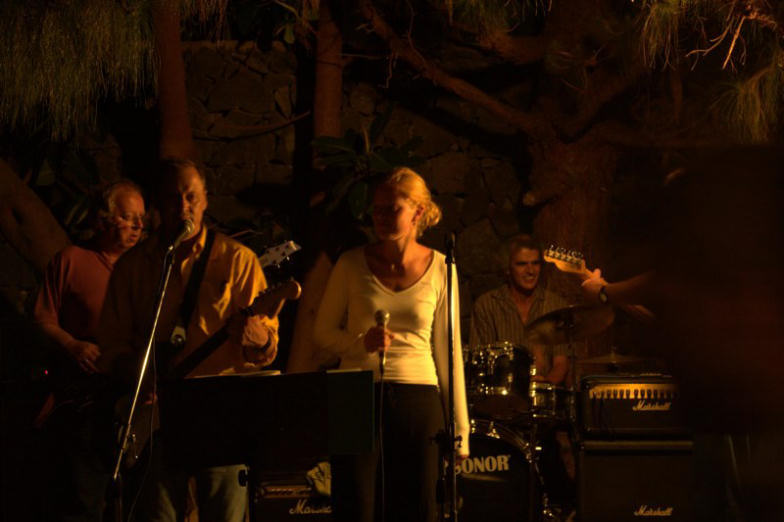 Darkness falls! Carla had to leave, but Carlos is now sitting in on drums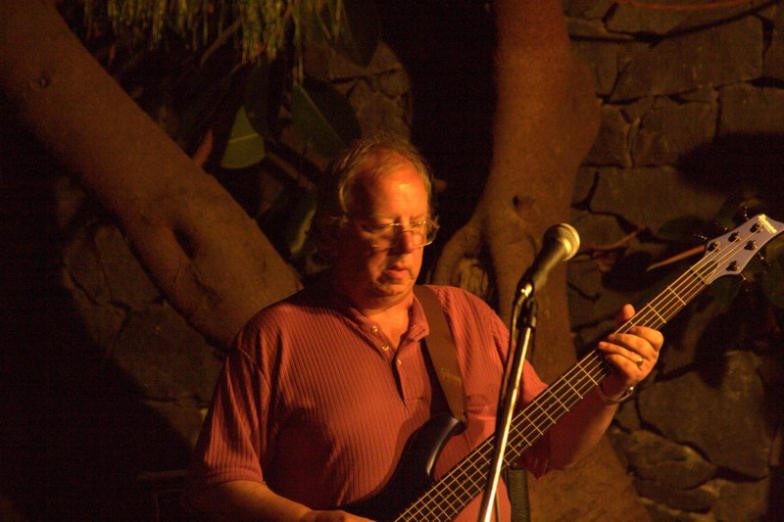 ... and its even harder finding those wretched notes playing in the dark!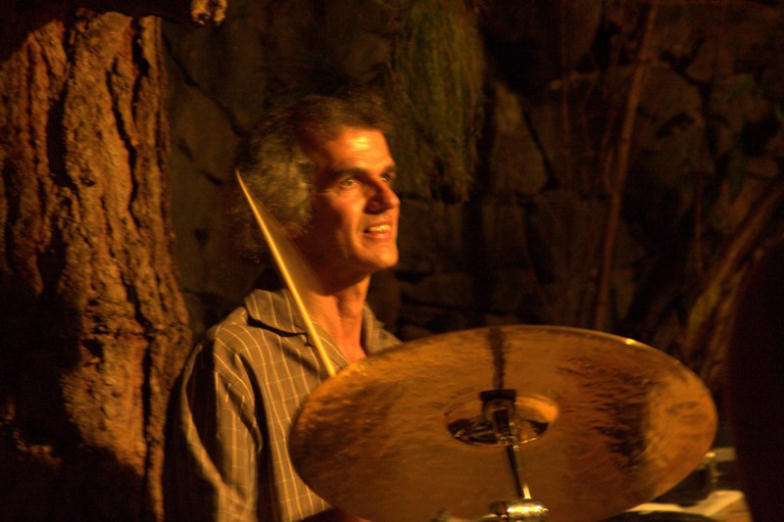 Carlos... Back in the driving seat!
Photo credits: Jure Skvarc
MANIFOLD 'UN-PLUGGED' at the ORM (Aug 18 2006)
This was something of a novelty. With no drummer and Renee unavailable, Alan came up with this arrangement. Alan had met up with Lindsey. A well travelled Welsh hippie who made a living as a street clown and who's fortunes had landed him on La Palma!
We had a rehearsal with him a few days before the gig, playing old favourites like Bob Dylan and Donovan songs plus a bit of Bob Marley. As it happened it worked out well and was joined on the day with Richard and his sax.
Lindsey has certainly moved on... A real 'free spirit' and a great guy. I wish him luck wherever his travels may take him...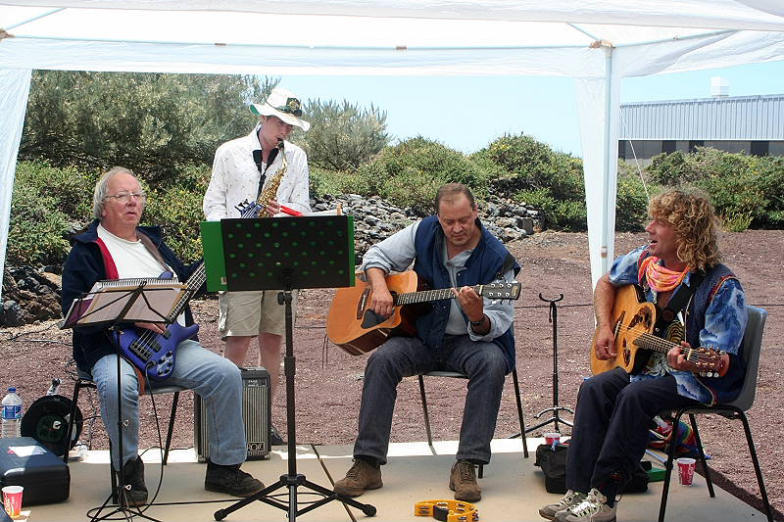 Manifold 'Un-plugged' except for me! L to R: Me, Richard, Alan and Lindsey.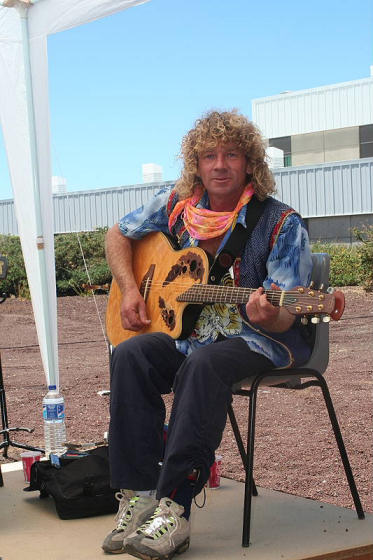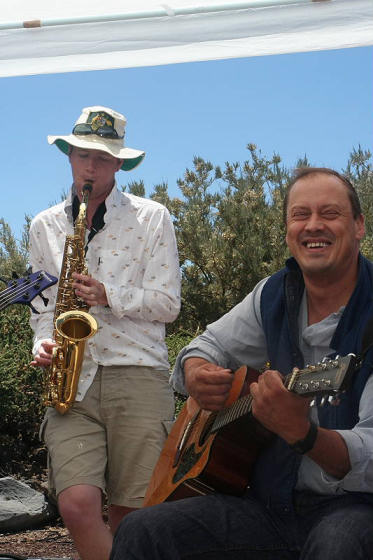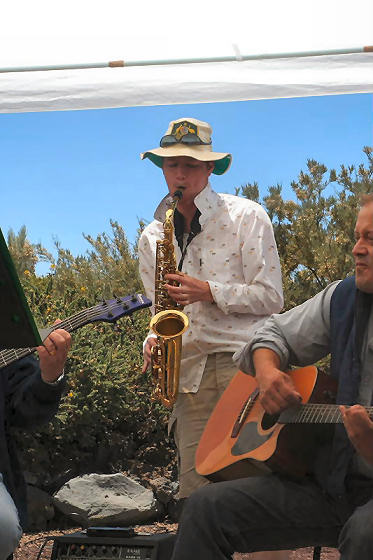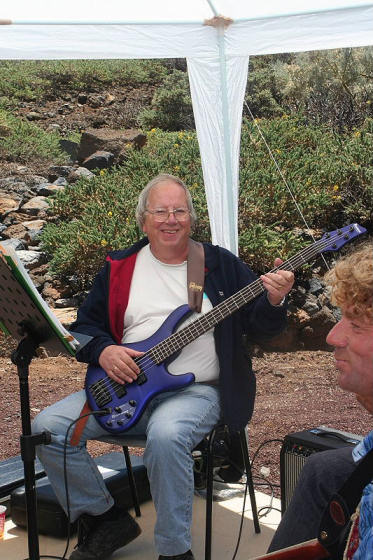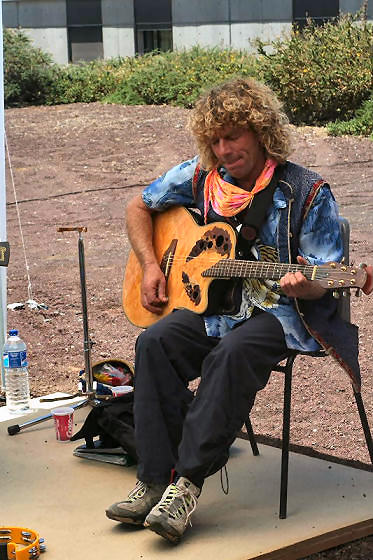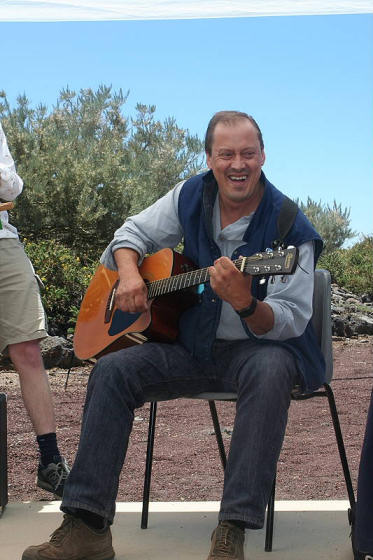 Photo credits: Olivier Martin




---