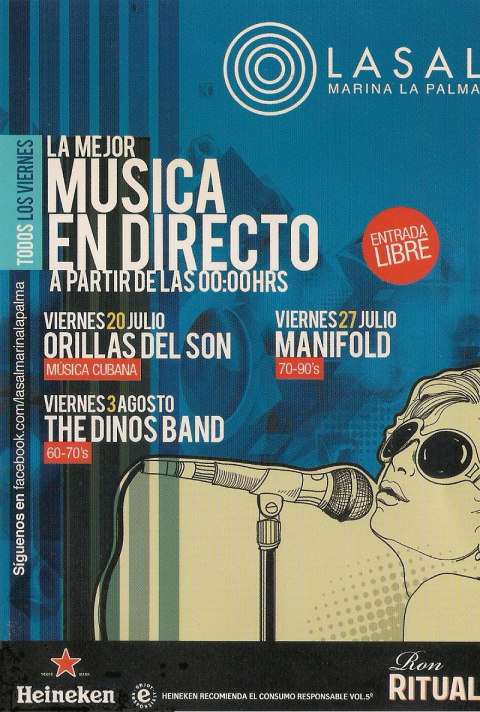 A most interesting gig this one? The BEST PAID and SHORTEST gig we have ever done in 14 years ;-)
This open air bar 'Terraza de Verano' is located between two restaurants on the top of the new marina centre overlooking Santa Cruz harbour. It us took more time to bring the equipment upto the roof via a small elevator, set it up then remove it later than the time we actually played for!
See Lasal as to what the place is like. No way did we have an audience like that, but the crappy 'House Music' played at a volume which far exceeded MANIFOLD (and we play pretty loud) was what we had to endure when carrying our equipment back through the crowd after the gig around 2am :-(
Normally we would perform two sets. Each lasting about 45 minutes (about 12 songs) then have a short break for a beer or whatever. What was crazy also was the time we started - At midnight! Probably a bit later as at first there were very few people there.
We were almost through our first set with perhaps two more songs to play when the manager said we could play a couple more then to finish. So we selected a couple of songs from our second set and left it at that. Probably time wise, we played for about 45mins. To be honest we were all somewhat pissed off about this! The raised stage area was below the roof wall and although there would be plenty of room normally, we were bunched up on these platforms with one of the posts that supported the canopy in front of us. This can be seen very clearly in many of the photos.
Near the end of our 'Monumental Gig' we were joined by our ex-vocalist Mayra who sang 'House of the Rising Sun' to the delight of the crowd and her friends who were there ;-)
The only other remarkable thing about playing this gig was the fee we got paid - 600 Euros! That being a €100 for each of us and paid on the night - Can't complain about that! However, I reckon we earn't it just in the time it took us to set up the gear then break it all down again and remove it after an hour. Makes me wonder how long other 'live bands' who perform there play for... and have to go through all that old shit as well :-(